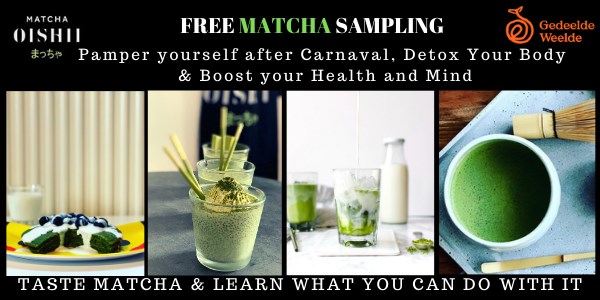 05 mrt

Matcha Green Tea – Workshop & Ceremony

Datum/Tijd
Date(s) - 05/03/2020
14:00 - 16:00

Locatie
Gedeelde Weelde winkel

After Carnaval, it might be the time to detox your body…  thus Matcha Oishii and Gedeelde Weelde would like to invite you to a workshop on Matcha tea! 🍵☕️

Did you know that Matcha tea is one of the main food antioxidants? And it provides sustained long lasting energy?

We invite you to Gedeelde Weelde on Thursday, March 5th, between 14 and 16h and you can join this FREE workshop and tea ceremony about Matcha green tea from Uji, Japan.
Matcha Oishii´s founder will show us how to prepare traditional Matcha tea with the Bamboo Matcha Whisk, just like it is done in Japanese Tea Ceremonies.
Let´s learn together how to prepare Matcha tea in a traditional Japanese tea ceremony, try delicious matcha treats and become matcha experts to prepare receipes at home! ✨

————————————————————————————————-

Would you like to join? Please let us know via communicatie@gedeeldeweelde.nl if you are joining so that we can prepare well. No costs involved.